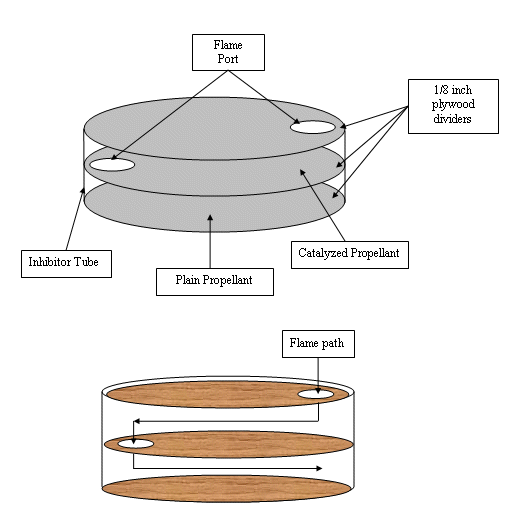 Note that the illustration is "upside down." Meaning that the propellant grains and nozzle will be to the top of the illustration, the head-end closure will be to the bottom.

I drew it this way because this represents the view while assembling the grain.
A short section of inhibitor tube is cut, in this case one inch in depth.

A solid plywood disk is epoxied into the bottom end.

Topside of the solid disk is coated with epoxy, as well as the inside of the inhibitor tube. 5-minute epoxy works fine, as long as I work quickly.

A blob of warm, uncatalyzed rcandy is pressed into the tube, enough to almost half-fill it.

The first perforated disk is pressed firmly onto the propellant. It had been coated with epoxy first. Enough pressure is applied to remove any bubbles around the edges, and to extrude propellant slightly through the perforation.

The process is repeated with another layer of rcandy, this time catalyzed with a little red iron oxide. I find that catalyzed propellant does not extinguish easily when the case pressure drops, uncatalyzed propellant sometimes goes out.

As before, all surfaces are coated with epoxy, to fill any air gaps and to ensure that the propellant sticks to the surfaces well.